CVXXK Split-disc Check Valve
Split disc wafer check valve with lowest pressure drop
The Metraflex CVXCXK check valve is our most economical check valve and the check valve with the lowest pressure drop. Operates smoothly and reliably to help eliminate water hammer.
Metraflex CVXCXK check valves are applicable for all water systems
Made in standard sizes: 2″ through 20″
Activated at 1/4 to 1/2 psi
Constructed of cast iron body with stainless steel discs.
Compacted into shortest possible face to face dimensions
Intended for liquid service only.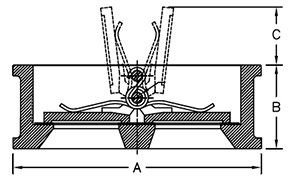 METRAFLEX
PART NO.
Pipe Size
A (in)
B (in)
C (in)
Pressure/Temp
Weight (lbs)
CV
Bolt Size
3D Drawing
Inch
mm
150°F
200°F
CVXXK0200
2″
50
4
1-3/4
1/4
200 PSI
190 PSI
3
48
5/8″
Revit/CAD
CVXXK0250
2.5″
65
4-3/4
1-7/8
5/8
200 PSI
190 PSI
5
99
5/8″
Revit/CAD
CVXXK0300
3″
80
5-1/4
2-1/2″
1/2
200 PSI
190 PSI
8
171
5/8″
Revit/CAD
CVXXK0400
4″
100
6-3/4
2-1/2″
1-1/8
200 PSI
190 PSI
13
290
5/8″
Revit/CAD
CVXXK0500
5″
125
7-5/8
2-3/4″
1-3/8
200 PSI
190 PSI
16
489
3/4″
Revit/CAD
CVXXK0600
6″
150
8-5/8
3″
1-5/8
200 PSI
190 PSI
20
695
3/4″
Revit/CAD
CVXXK0800
8″
200
10-7/8
3-1/2
2-7/8
200 PSI
190 PSI
38
1789
3/4″
Revit/CAD
CVXXK1000
10″
250
13-1/4
4-1/2″
3
200 PSI
190 PSI
57
2557
7/8″
Revit/CAD
CVXXK1200
12″
300
16
4-1/2″
4-5/8
200 PSI
190 PSI
93
4287
7/8″
Revit/CAD
CVXXK1400
14″
350
17-5/8
5
5
150 PSI
135 PSI
121
5456
1″
Revit/CAD
CVXXK1600
16″
400
20
5-1/2
5-3/4
150 PSI
135 PSI
165
7342
1″
Revit/CAD
CVXXK1800
18″
450
21-1/2
6
6-3/8
150 PSI
135 PSI
223
9532
1-1/8″
Revit/CAD
CVXXK2000
20″
500
23-3/4
6
7-1/8
150 PSI
135 PSI
245
12000
1-1/8″
Revit/CAD