Model PTFE Slide Guides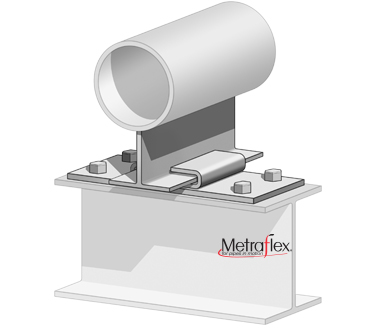 Standard and pre-insulated guides in various configurations
Matched to pipe size and insulation thickness, the spider guide provides lateral stability to the pipe to prevent "bowing" and to ensure axial pipe movement in and out of the expansion joint. Extended spiders are available. These guides are not designed to support the weight of the pipe. The Metraflex style IV guides are available for pipe 1 inch to 24 inch diameter, insulation thicknesses 0 to 4 inches are standard, larger thicknesses are available, and axial movement up to 12 inches of travel. Add die-electric spacer for copper pipe.
Model Selection Chart For Style IV Guides
Using insulation thickness, choose the Model # from this chart. Die-electric spacers recommended for copper pipe.



1-4″ pipe diameter
Maximum 2″ insulation

5-8″ pipe diameter
Maximum 3-1/2″ insulation

10-24″ pipe diameter
Maximum 3-1/2″ insulation

Pre-Insulated PTFE Slide Support Options

1-4″ pipe diameter
1″ – 4″ insulation

5-8″ pipe diameter
1″ – 4″ insulation

10-24″ pipe diameter
1″ – 4″ insulation

Base Options

Lateral slide base
Bolt down

Axial guide base
Weld down

Axial guide base
Bolt down